Getting more "mobile" also encouraged me to get my most used items onto my person. And though it may seem strange, I did a lot of research into tool belts and the like. What should go into them, what should not, and the best design to distribute the weight while still being as functional as possible. I used two different designs and merged them…
Distributed weight and increased coverage of a tool apron with the carefully defined pockets and split center (to allow bending without pull across the middle) of a tool belt.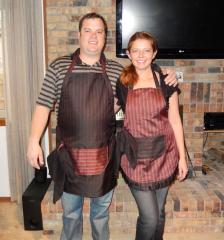 These Host and Hostess aprons I made for my sister and brother-in-law were a great start for the pattern, but mine... er... needed a different direction...
I was at the Colorado Fabrics store on new years day and they were having everything 30% off, and I found several good quality materials for $1 a yard, so they ended up being only about 65 cents per yard!
The funny part is, I had no idea what I would do with them, and who needs wood-grain fabric??? So I got only about 5 yards of it. I might have enough to make Hubby a work apron out of what is left, but I cut the pattern for mine way too short on the first try, so will have a tiny apron for my niece or something, but not much fabric left.
( I got a whole bunch of other fabrics though and some of them are just so nice! I will have lots of projects to do with them when I have time. )
My "TOOL RIG" has specially designated pockets for each of my most commonly needed small tools. It also has two strong magnets so that I can stick on a magnetic parts tray, or even stick screws right to the front.
It also has a flap pocket to keep saw dust out of my little right angle screw-driver, bits, and lighter, and a divided section for my most used drill bits.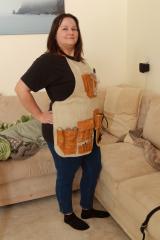 I also got a drill holster (on sale as well from HD), and put it on a separate belt as I will probably only wear the holster when on a ladder, or working a larger project outside.