---

I don't know if keeping too busy to think is a good way to handle grief, but maybe it is a necessary thing right now. And finding out that our community "Clean Up" would happen this weekend with a tiny fee of $5 per truck-load of junk instead of the $70-ish at the county dump, and dumpsters right near the mailboxes a mere half-mile away, was a push to action that I could not ignore.




So Thursday I turned this...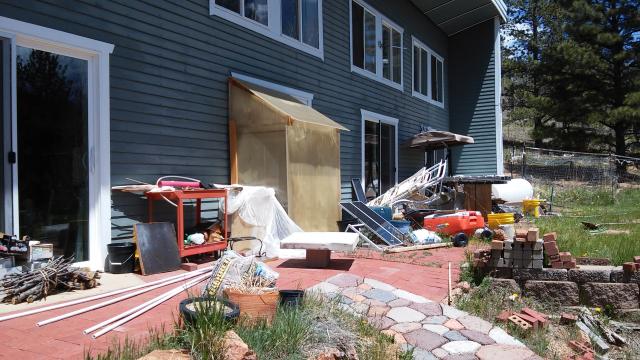 And a prepared junk pile of this...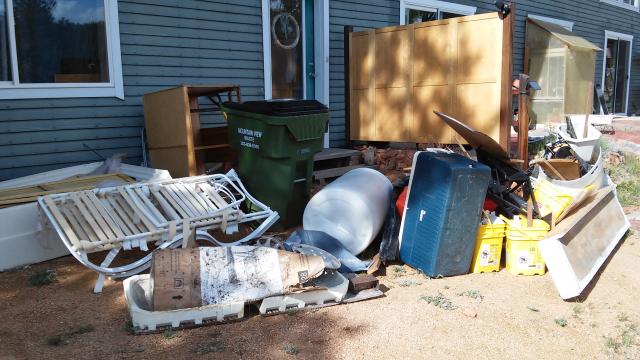 Not dramatic enough?
Friday evening I prepped the first load so that I could be ready to go Saturday morning. Um... yeah... I do have a talent for fitting a full-sized-truck-load onto a quarter-sized-Brat.
How? Creative physics. The loophole that lets me move things that I could not possibly be able to move with my out-of-shape and kinda weakling body. Sure... it takes me a lot longer to move them, but it gets done.
This morning I was up early and got to the dump site just after they were going to start... but of course I then had to wait about an hour because the dumpsters had not been dropped off yet. I was second in line when the first dumpster was placed around 10am and quickly unloaded with a little help for the big stuff and on my way back to the house for load #2 that included a surprisingly heavy bathtub that had been used as a raised garden.
After that load and with slightly shaking arms I started on load #3. But this load had an extra challenge to get rid of the
sliding glass door panel
that the glass was trying to fall out of one of the panes. (Yea, packing tape may work for over a year, but it will fail to hold together a crackled glass door eventually.)
Step one was to use an old and weather damaged board to act as a ramp for the glass door. Then with the door slid onto the board, both the board and door were shoved onto the load.
I tied it in place, but like every load I had to creep along the bumpy dirt roads at a snails pace just hoping everything would stay put. In the case of the door... it did... but just barely.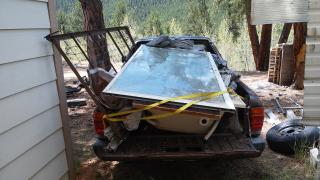 And for load #4 at about 4pm I started to fall apart a bit. However, I knew if I were to stop that I might not get started again, and even though the "Clean Up" will be going on tomorrow, too... I just don't think I would get going again as sore as I am going to be when all my muscles start reporting in tonight.
So I kept at it. Cleaning up behind our shed, a few things from inside the shed, about a quarter of the stuff in the "barn", and an assortment of junk that has collected and sat near the barn for way too long. Including getting rid of some big and heavy office desktops/counter-tops that had gotten damaged by sitting on the dirt in the barn and a small host of other weather damaged boards.
Luckily a couple guys dumping saw me struggling with shoving the big counter-top boards into the 30 yard dumpsters and helped unload all the heavy stuff from the little truck. I am all for doing things myself when I can, but my shaking arms and knotted back was seriously grateful for the help after loading everything four times and unloading most of it into the dumpster well over my head.
So home and done at about 5:45pm, and I am not sure I could lift a pebble. However, twenty dollars, four loads, and some seriously sore muscles later, and I have pretty much all the "junk" that is too big to fit in the normal trash... gone. (Except the giant dog-house that will take 6 people to move or some serious demolishing.) Of course that leaves a ton of small junk still here inside the house and shed, but I can get rid of that slowly as I have time to sort it out.
A shower to feel almost human again, and now for some extra-strength Advil... or maybe just some really good rum and juice... and of course the best use I have ever found for a "selfie stick".