---
While summer fun can often seem expensive, even the smallest outing can seem out of reach when budgets are tight. When that is the case, it is a good idea to keep an eye out for half-off deals or even better... make use of certificates you might already have.
We had a mini-golf certificate that we got from "Get MY Perks" www.getmyperks.com/denver a while ago... $10 All-Day Pass for two people. And even better, the location was right at the base of the hill. ( Or for those of you not living in Denver... on the west side of Denver-Metro before you drive into the mountains. )
The location was a small area, but it had three 18 hole courses and good shade over most of it. Older courses, but very fun. We played all three courses, then ate peanut-butter and jelly sandwiches that we brought, and then played them all again with "special rules" that we made up as we went along. For example, we had to hit a certain wall twice, or hit the other person's ball with ours, or go around a certain obstacle, etc. Since it was just hubby and I, and the other people there were in larger groups, the special rules kept us from running up onto the other groups and having to wait or ask to skip past them.
It was very fun, and since we went as it first opened at 10am, not too busy, either.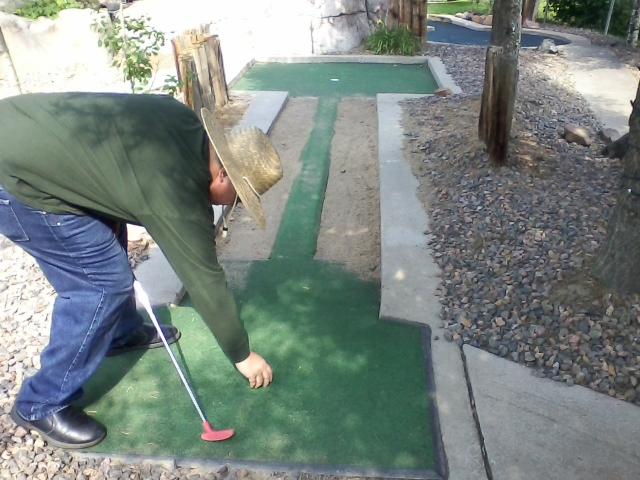 www.getmyperks.com and Groupon.com are both great places to find low-cost entertainment and food if you plan ahead or are flexible with where you want to go. Taking water and a picnic lunch can make things even cheaper. Of course, not leaving home at all would save the gas, too... But sometimes a little fun outside the house is even more important when budgets are tight, nerves are frayed, and stress is high.