---
Uggg. Was all excited to go sit on my swing and drink my coffee this morning cause it is finally bright and sunny and the wind finally stopped (way too much wind yesterday). But stepped outside and realized that not only was the sun not shining directly on the swing yet… but it is 35 degrees out there!
For most people winter is the coldest season, but since the sun dips and streams into the windows all the way to the back of the house, for me, it is one of my warmest seasons. But spring makes up for it by being my "winter", and a painfully cold one after soaking up the sun from the windows all winter long. The sun has shifted so that it no longer makes it more than a foot or two from the glass doors, but the outdoors isn't warm enough to heat the house yet. It looks warm out there, but is still literally freezing.
I find myself feeling like I should build a fire in the morning, but putting it off because the sun seems like it should warm everything up later. And because I am at least 80% solar-powered, I end up moving slower and slower until I plop down on the couch and cover up and get nothing done for about three months.
And of course that is between looking like this out there since April and May are the snowiest months of the year here...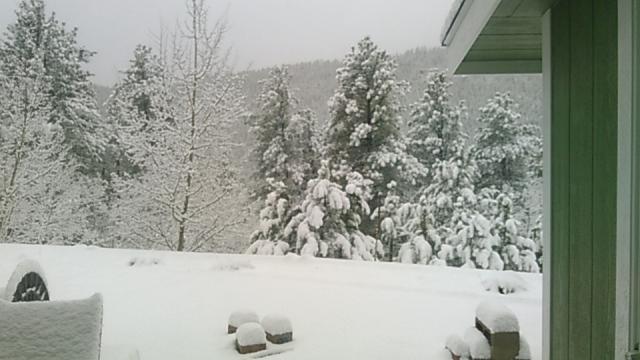 So the last few weeks my most energetic accomplishment was checking my email and occasionally cooking. Well, until I look at my phone and see pictures of a few items I did do.
Like epoxy-ing a knob onto the glass door of the guest bathroom cabinet. I also put a little epoxy over the chipped corner to prevent people from getting cut on it. Not the prettiest job since the clamp I prepared ended up too shallow and I smeared the epoxy all around the base of the handle trying to reach the tape on the floor. Subsequently stepping in the epoxy tray and it falling off my shoe onto the carpet. So yeah... standing on one foot with the scotch tape dispenser tucked under one arm while I try to both hold and tape the knob into place. Cause that's how I roll.
I also added a curved sound re-director onto the business card holder that I sit my phone in since my new phone speakers are on the back instead of the bottom like my old phone. It helps some, but not as much as the card holder did naturally for my old phone with the speaker in the bottom.
And turning a tiny wine bottle into a cooking salt shaker. I use a LOT of salt when I cook and needed a large shaker that looks nice on the counter-top. Not sure if I will do a pepper shaker to match since I don't care for black pepper, but may do one for season-salt, white pepper, or maybe the roasted granulated garlic that I use in almost everything.
But admittedly, drilling a few holes in a lid really doesn't count as "energetic" by any stretch of the word. So this week I promise to throw on a flannel shirt (or two) and try to get something done... even if that something is just the minor cleaning around the house that I should be doing every week.
By the way, that wine is surprisingly good and since I seldom cook with wine and even less often drink it, it works great to have some around for cooking without having a big bottle going bad when I use a half-cup for something. And they are just so darn cute, too!