---
Good news. Went to the store this morning and at least the guy I met with at the Ace/Moore Lumber is pretty sure I can return the 8 extra trim boards. I guess I was thinking they were 8ft, but they are 16 foot, so I ordered twice as many as I needed. He also thinks that the two siding panels I have left should be able to be returned (though there will probably be some kind of re-stocking type fee). The trim boards and siding are VERY expensive, and can't really be used for anything else, so any money back at all is a good thing. Even better… they are going to come pick them up on probably Tuesday for no extra cost! Yay!
Got the nails I needed for the trim and some corner molding for the exterior door trim. Got the wrong size of molding though… purchased 1/2 quarter round, but ended up with 3/4. It will actually look nicer for the sliding glass door, but there are some strange size issues with the other door, so I will probably have to rip down the length of a couple of them with the table saw. Something I was trying to avoid, but I think I will be able to do so without too much trouble and can do my best to get it all looking nice and as even as possible.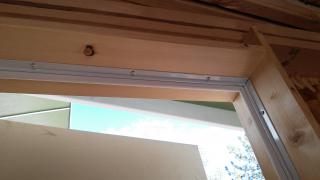 I am happy to report that the weather-stripping kit I ordered from Amazon is going to work perfectly without any need for an additional stop. (Thank you hubby for telling me to go ahead and spend the extra money for the kit.) That saves on trim cost, and trouble, AND keeps the door opening as large as possible while still providing a really nice seal. Of course it will all need taken down, including the door and hinges, to paint the casing.
Also happy to report that (at least so far), the glued on door handles for the sliding glass doors are staying stuck, and the locking mechanism for the entry side works. I will have to decide what to do about the handle for the outside. I have one I think I want to use, but it is very wide and probably needs to be cut down with the grinder through thick metal along the whole length of about 6 inches, so I am not bothering with that for the moment.
I got the soffit boards cut, painted, and put up yesterday. Quite a process with a combination of wood brackets and leaning supports to get it held in place while I used the nail gun to get it secured.
The worst trouble actually came from bees that were swarming the humming bird feeder (a sign that summer will very soon be over). I thought that if I sprayed them away with water and took down the feeder, that they would get the message and go away. Not so. Instead of defensive bees, I now had really angry bees. Strangely enough, a couple of them though they could pick the lock on my shed door and get in.
They dissipated a bit when the sun was blazing between clouds, so my options were to work in the shade with dozens and dozens of angry bees, or work in the burning sun with just a handful of angry bees. I went with sun, but managed to not get too burnt.
After going to the store today, I got most of the trim put up, but am feeling icky after eating lunch too early in Conifer, so didn't get the ones done that will need special cuts and more painting for the corners.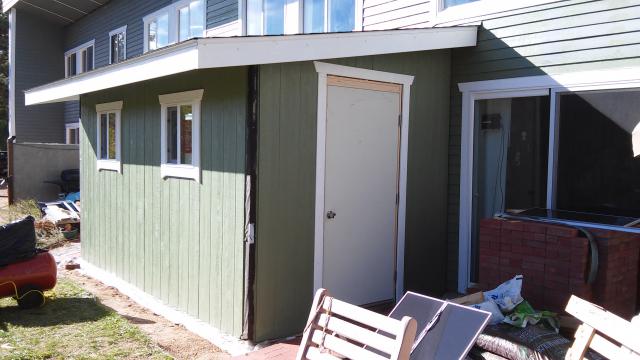 However, I did also get some clamping closures for the firewood "shed-let" installed. They work very well, but I think I will remove the bright red rubber on the handles.
I am getting closer and closer... and just might make it before the freezing weather will ruin fresh paint or caulking. Trouble is... I just realized today that I still have to get the trim on the storage shed in the parking area painted before freeze as well......... always something.