Headache, Stomach, and general pain medications

First aid bandages and sanitizer

Cough drops

Carmex lip balm

Sanitary napkins

Hot-hands and matches

Fold-able sun hat and sun-screen

Gum/Candy/Granola

Chip clips or bag ties

Napkins
Of course, with a list like that (and possibly more things like reflective triangles and such), a small trunk could fill up fast. So I was looking for a little more out-of-the-way storage for some of the less used items and noticed that there is a pretty decent amount of room under the spare tire in my trunk. Of course, just trying to stick some stuff under there would not work since it would shift around and keep the tire from going in easily, so some kind of holder would be needed.
So I turned the tire up-side-down and used some newspaper pressed inside the wheel to mark the circumference and center spike, then measured the depth. (I marked the outer edge of the wheel, the deepest part of the wheel, and between the two. Then I used the between mark so that the tire will very easily be put into place around the storage.)
The area under the tire is curved, so I decided a flexible base with firm sides for my storage "coral" would be best. I have a large roll of vinyl that I decided to use, but any thick plastic or vinyl would do well. Plain cardboard sides cut an inch shorter than the wheel measured makes sure the tire sits where it should.
I stapled the cardboard and also used some duct tape for extra strength on the sides.
Then I cut out several several inches larger on the plastic than my base and pressed it into the center of the cardboard. Several staples to the sides and a small hole cut in the center, and it is ready to go.
While large items won't fit, there are plenty of smaller items that can go in this space.
And of course, some items can fit around the tire as well.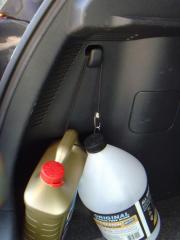 For larger or leaky items, a bungee cord can help keep them out of the way and upright. Or a small trashcan can hold small leaky bottles like brake fluid, and attach it to the bungee cord as well.
While I still have some more things to pack into the storage space, it definitely helps to free up trunk space for more fun things... Like shopping, grocery bags, and presents.