Because of this, people who are familiar with baking and making might find this post overly detailed and the videos annoyingly slow. However, my hope is that you will only have to read and watch once, and then be ready to make your own pizza without having to refer back to the post and videos many times or be left guessing at any point.
Why make pizza at home? Three reasons... what you like, how you like it, and better pizza for less cost. And besides... who wouldn't like to wow their friends and family with fabulous pizza skills?
Here are quick-jump links to navigate to a particular section:
---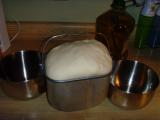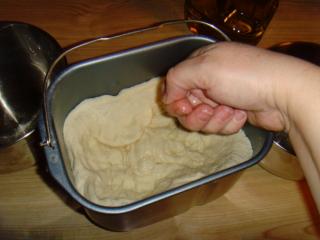 So... the very first thing about pizza dough that I want to say is...
It Falls
. I went through a nasty bout of
pizza drama
recently because not one recipe that I read for pizza dough told me...
It Falls
. It is
supposed to fall
. No matter how many times you "rise" the dough...
It Falls
. And that is okay. As soon as I found a video that actually showed this happening to a pro, the world of homemade pizza just got a whole lot less confusing.
And now... with this entirely over-in-depth post and videos, you too can make a great pizza at home......
Strangely enough, the first thing you need to decide is for the last steps. What kind of crust do you like... and possibly more important, what kind of pan or baking device do you have on hand to use?
It's all about the soft-chewy vs crispy-crunchy, and how much you want to spend for your particular pizza crust. I would recommend first trying pizza on a thin baking sheet you already have and then decide from there... however, if you like crunchy crust at all, a stone or cast iron is the way to go since they improve even cooking as well as crisping the crust. And if you are not sure about the investment, remember that leaving a stone or cast iron in your oven can help regulate and improve even heating the rest of the time, too.
Making the Dough is really quite easy if you have a bread machine. That is what I have and what I use in the video. Getting the water amount just right is the trick. This video is much longer than probably strictly necessary, but I was so fed-up with recipes saying to get a "smooth" or "consistent look" without any images for reference that I decided a long video you only need to watch once would be much better than leaving you guessing.
After separating the dough into portions, you can put them into oiled bowls and cover with plastic wrap for later use and even refrigerate for a couple days if needed.
(Start Oven Pre-Heating to 425 and make sure baking stones or cast iron is already in oven if you will be using them.)
The video is surprisingly long, but comprehensive. If you want a quicker idea of how to do it, skip to the next video.
Regardless of what type of crust you make, I definitely recommend brushing the edge with a little oil to help browning and you can sprinkle seasonings, coarse salt, or parmesan cheese on the oil for an even better crust.
How to build your pizza and bake it on a Stone, Stone with Parchment, and Screen Over Stone.
Additionally if you don't have large lumps of tomato or something in your sauce, you can clip the corner of the bag and squeeze on the sauce like frosting.
I had to wait for a while when cooking my pizza on the screen since it took up too much room in the oven, so my rolled out crust sat on the warm counter for a while and got quite sticky underneath. While somewhat annoying, this gave me the opportunity to try out methods of fixing the issue. While blowing underneath did help a little, the crust didn't start really moving on the peel until I really heaped on the cornmeal underneath it.
Pre-baking the crust for 5 to 10 minutes (depending on thickness of crust) can be done with any pan and is highly recommended for baking sheets, medium/thick crusts, and any time you really want to pile on the toppings.
Purchasing Bread Flour at a warehouse store like Costco can make the price even cheaper than all-purpose flour at a regular grocery. Storing the flour may be a bit annoying, but the price savings are well worth it if you make pizza or bread even a couple times a month.
Dry Active Yeast is also considerably cheaper at a warehouse store and you can vacuum seal or zip-lock the remains in portions that will re-fill your jar and put them into the freezer for storage. Put the original bag in with the yeast so you have the information on it as well. ( Always refrigerate your jar of yeast to keep it fresh. )
You can even make pizza in a toaster oven as long as you pan or screen will fit, and I have seen many pizza stones that are specifically made to fit on a grill, too.
Putting flour and cornmeal into spice shakers makes it much easier to get a nice even coating onto your surface, dough, or pizza peel.
A thick slice of Deli-Meat can be diced for a very quick and easy pizza topping that is pre-cooked and ready to go... and it makes a lot more topping than you might think. Two thick slices covered about four medium pizzas for us. (Roast beef is my favorite so far.)
So there it is... I did say "
Excessively Complete
" didn't I?

Of course, if you made it this far and watched those painfully long videos, the hard part is over... now get busy on the easy part of making your own pizza!