---
Digging holes… holes… and more holes… then filling them back up again. Somehow it just doesn't seem as much an accomplishment when the only visual is a bunch of discolored spots with no grass on them.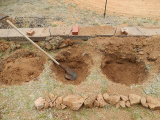 Feels much more impressive when they are empty for some reason and I can see just how big a 3 ft wide by 2 ½ ft deep hole is. (Okay... 30in wide by 2 1/2 ft if you want to be exact.) Of course, it will probably feel a bit better once I put the bushes into the holes, but I have about another week before that happens with most of them.
Just finished the 19th hole this morning, and hope to push on to several of the 12 more needed for the lilacs. I can't decide whether to dig individual holes for them or just dig one big trench 3ft wide by 2ft deep by 22 ft long. Yikes! Just saying it makes it sound impossible, so maybe I will just start digging the holes that will go in-between the current lilacs and save the trench on the back side for another day.
So what is in a hole?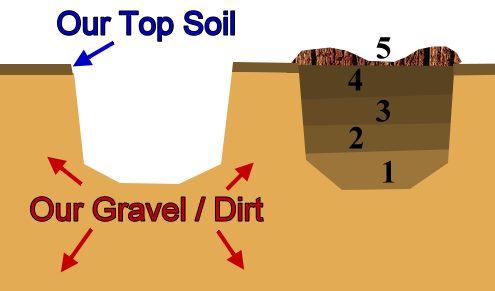 I got a lot of differing information on what to fill the hole with. Everything from a University site that said add 5% organics like compost or peat moss, to a professional landscaper who said add 50% topsoil, to garden center sites that said 50% garden soil mixed with compost. However, the professional landscaper made the best case for not making the soil too rich because it will stunt the plant when it hits the native soil after growing in rich soil.
Of course, I was not sure which would be best for our soil since we have only 2 inches or less of "top soil" in the small yard and then it goes straight to sandy gravel filled with rocks and very little to no real dirt. So I made a plan that I thought would help ease the transition from potting soil to our gravel as the plant roots expand. It took me several holes to get the layers in the right ratios, but this is the general idea I tried to stick to...
The bottom layer of the hole consists of about 50% our top soil (removed from the top of the next hole) and 50% our gravel/sand.
Next layer has about 70% our gravel with 20% store bought topsoil and 5% compost and 5% peat moss.
60% our gravel with 30% store topsoil, 5% compost and 5% peat moss.
50% our gravel with 30% store topsoil, 10% compost and 10% peat moss.
Holes will be "dressed" with wood mulch to help retain moisture and add to the "bowl" for watering.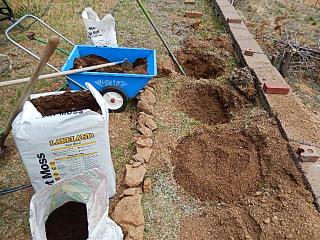 I mixed the dirt/gravel/additives in the blue cart and took what gravel/soil I needed from the next hole in line. I stomped each layer down to prevent too much settling later, and will not put on the wood mulch until after the bush is planted into the hole. And of course, the mix of each layer in each hole definitely varies since I was just using the shovel as a measure, but it should hopefully give the plant some easier transitions as it grows.
Mixing the dirt and gravel is probably the hardest part for me. Something about the twisting and shoveling is worse on my shoulders, arms, and wrists than just digging.
What Else?
Despite my hands shaking like leaves from shoveling, I have also been working on one or two (or maybe a dozen) other projects. One of the big ones is a blog. Yep… one of those things that people do who, for some reason, think that what they have to write might be interesting to complete strangers.

Actually it is really mostly for my friends and family so that instead of putting a bunch of pictures in albums with a few captions, the story to whatever project can be told more like an email. And who knows… maybe someone out there will want to know how to make pot-holders from placemats. (a story for another day)
Off I go to dig more holes.
Sarcastic
"Yeah!"