Well... after many hours of back-breaking work including zippered pockets, zippered cargo pockets, semi-fitted-semi-elastic extra-soft waistband, and even belt-loops..... here is the new version... in cargo pants.
Wow! The crotch really does come down to the knees! And what is going on with those cargo pockets? I swear I measured the darn things about ten times to get them perfectly placed, and one is now magically about three inches higher than the other! This is what you get when you are trying to change a pattern for big pajama pants into a fitted cargo pant... I think the biggest problem is that I didn't think about needing to take off the top 2 1/2 inches because they would get replaced with the fitted waist-band.
But of course, I am going to blame it all on Hamper's help...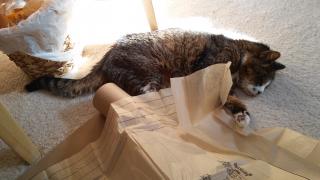 While ripping out the cargo pocket and re-sewing it in the right place is more trouble than it is worth, I hopefully can remove about two inches right at the bottom of the top pockets to fix the length of the crotch since the legs are about two inches too long as well... but I will probably wait until hubby is home to measure and pin in the right places. Who knows? Maybe he always secretly wanted to be a cargo-toting off-balance pirate? You don't know.
While hubby's cargo pants turned out pretty... well...
interesting
, many other sewing projects for the trip turned out pretty well. For example... my
light cotton pants made from sheets
turned out nicely. I made about eight of these in capri and full length.
Also, two airplane foot-rests that hang from the arms of the tray table:
A light-weight travel wallet with RFID protection (to keep quick-pay or chipped credit cards from being scanned):
This wallet has eight large dedicated card slots (all doubly RFID protected), one clear ID slot, two deep document slots behind the cards, a zip-pocket for cash and coins, and an adjustable velcro closure. (If I made this one again I would probably make it a little bit smaller in the card area for 6 instead of 8 and put a small gusset into the cash/coin section to fit more there.)
And for the new fancy "super-zoom" camera, a new wrist-strapped neoprene cozy needed to be made which slips over the camera when not taking pictures, but hangs from the wrist-strap when in use.
The wrist strap is the most special part of this... It is wide and soft for comfort with an adjustable tab, and it flairs at the camera end with a tiny pocket that fits an extra battery and SD card for those times when a quick change-out is needed but the camera bag is not handy to get to.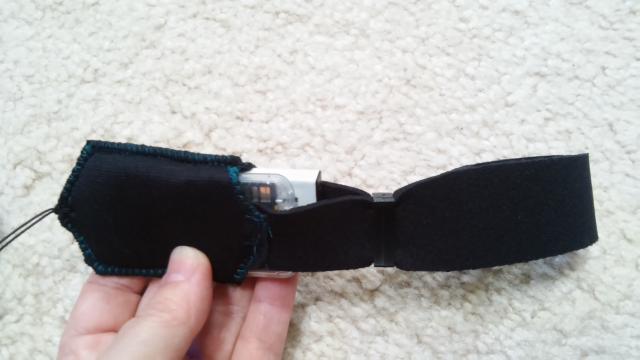 Of course, about six cute shirts including these:
Also, I ordered a few bikini tops on great sale from the same place I got super-sale swim pants for $6 instead of $45, so that I would have a top to wear under a shirt for snorkeling, etc. Sadly… like most bikini tops, they were not really designed for modesty (or fatty sides). So I got some material from the craft store that seemed really similar to the swim-wear type fabric and made some modifications.
I added material across the center of the chest and changed to a wide band instead of the thin band with a metal hook for the back… and made the shoulder straps cross and sewn to the back-band so I don't have to worry about a knot or bow at the back of my neck.
Still probably not something I would be very comfortable wearing by itself in a crowd, but I think it is MUCH better than it was before, both for comfort and modesty. I am very tempted to get some more of the material and make a little skirt that would attach right to the top and cover my belly and bottom…. But I doubt I will have time to get to the fabric store again before vacation time is here.
And on the subject of swimming… I made some water-slippers with some thin neoprene, with non-slip spots on the soles to wear while swimming/snorkeling or walking on the beach.
Yeah... there are swim-shoes out there and I even already have a pair, but they are large and clunky to pack and take forever to dry out. These are thin and easy to pack, and while they won't protect from major razor-clams or anything like that, they will protect from an accidental bump on coral, standard shells, hot sand, and pinching crabs.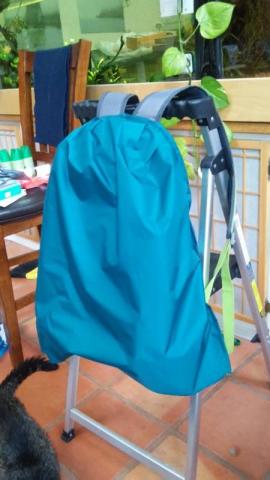 And lastly on the list (though mostly because I can't remember what else I made) is a slip on rain cover and pick-pocket protector for our standard day-pack. It has mesh on the side that presses against hubby's back to keep good air-flow, and rain-proof material on the outside and a hole at the bottom that a clip on the backpack goes through to keep it firmly covering all the zippers when in areas at risk of pick-pocketing.
Now, at exactly one week away from vacation, it is time to stop sewing and start trying to figure out how to pack all this stuff. Doesn't sound like nearly as much fun!