---
This morning I when I decided to do a second coat of paint on the parking area shed door trim, I went ahead and mimicked the style of trim and edging on the left side of the door by taping off and painting a matching strip of green. I think it looks much better than a solid, over-sized area of white.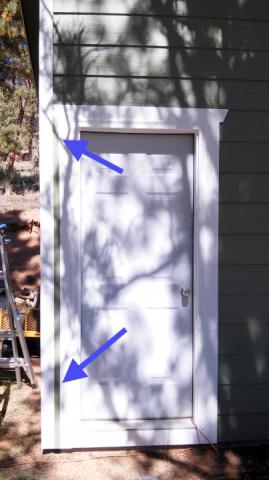 Then I moved the wood shed-let back out from it's place, raised the bricks to help sit it better, and got it shoved and lifted back into place. I had originally planned to do a green trim strip to narrow the gap between the door and the shed-let, but decided that a full white trim board would do much better and "complete" the door frame a bit.
However, before cutting the trim to fit, I got the sliding screen I had spare and managed to get it put into place. It will help a lot with allowing air-flow in the summer without bugs getting in or the cat getting out. Then I cut the trim to fit, painted it, and got it installed. It will reduce the cold air that flows through the wood storage and looks much better.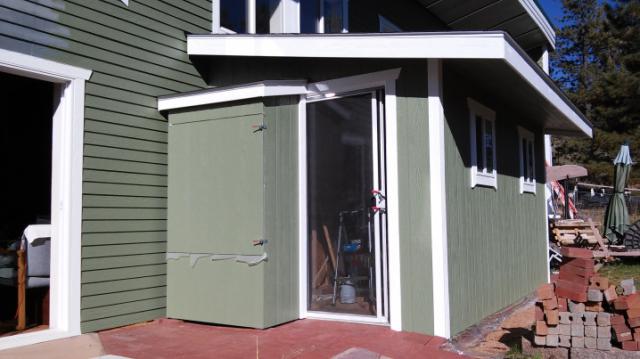 Then I added fuzzy weather stripping for the wood side of the sliding glass so that it doesn't squeal metal-on-metal anymore. I also cleaned the edge and waxed it so that it closes and opens much easier. And then I closed up all the doors….. but…. forgot I haven't added an exterior handle yet, so had to go around to the other side to open it.
With that in mind I grabbed my little vice and the outer door handle and used my little grinder to cut it down to size. And now it is epoxy glued and clamped and I will need to wait a couple days for it to cure before closing up the door all the way.
Had just a little "go" left, so I got the door frame and foam for the house-to-workshop gasket installed. It fits very snug and I used some of that strange shaped Z trim for the base plate to the house. It will provide a seal without causing a big step-out on the floor. The transition is much like that of the regular sliding glass door that we use to come and go to the grill area. It has a little white caulk from where the wall was put up and a little black caulk from where I sealed the Z trim to the floor… but it will look much nicer when that is all painted with the "Deck-Over" for the flooring.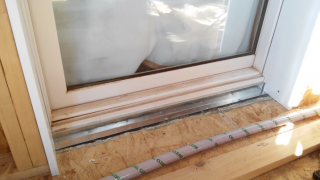 But now I am drinking some apple juice with a little bit of rum in it… so no more power tools for me.