---
Early this year I gave in and cut down all the pothos plant vines over the kitchen cabinets. They were just too much work when leaves would die off for no reason 2 to 3 times a year. I have started new hoya and some real philodendron plants to replace them, but it is a barren shock each time I go in the kitchen for now. While the hoya and phils don't loose leaves like the pothos, they also don't grow nearly as fast, so it will be a long time before the vines have filled in again.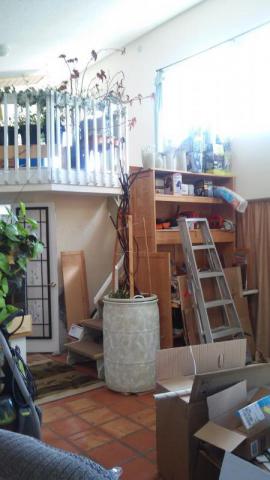 In the meantime, What is missing in this picture? Yep… about 2/3 of the fig tree.
The poor thing had been suffering from spider-mites and struggling for years. And its long limbs were too thin to hold up on its own so I had to keep bracing it tighter and tighter to keep it all upright. The last straw was yesterday when a support string broke and the whole think started tipping into the ceiling fan. Yeah… yikes!
So I finally cut it all down to about 4ft tall and drenched every inch in spider-mite treatment that smells horribly of chrysanthemum and will stink up the whole house for days. Hopefully the poor thing will grow new leaves and limbs and thicken its trunks from the harsh cutting, but even if it dies it was past time to do something about it and maybe time for a more suitable tree to be planted there. Though I have no idea what would be a more suitable tree for that spot. I mean… really… who plants trees in their house???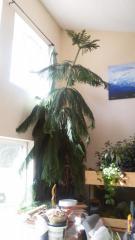 I will also need to do something about the 10 foot norfolk pine sometime soon. It is doing quite well, but it is a bit tipsy from being so tall and the inner bucket is starting to suffer from the weight. I haven't figured out a good way to support the inner bucket and get the tree straightened out yet, but it is very likely to need two people at minimum, and some creative ladder placement, so I guess I will need to wait until hubby is home again for that anyway.
For the moment, the lost greenery is hard to deal with, but with any luck everything will grow back with less maintenance and just as beautiful... even if it takes a long time to get there.