---
Um… yeah… of all the strange things… While he may not leap tall buildings or save people, Mowzer is sure looking like he could.
When you realize that your kitten over-heats as easily as you… what do you do?
Well, first, you pack around ice-bricks to put fresh ones in his carrier for car rides in the heat…. and then… well…. Then you attach a little sun cape to his harness.
He doesn't mind it any more than he minds just walking, but he has been a bit stubborn walking lately. I hoped that the great 2 1/2 days in town walking and trotting around Home Depots, and meeting a ton of people and some nice dogs,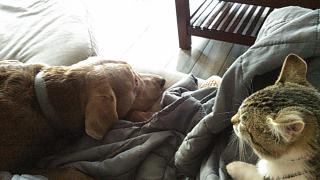 would make Mowzer more willing to trot around here, but today's walks were semi-drags instead… and pretty disappointing after how well he did in town.
Maybe keeping the sun off will make things a bit better, but I may just need to move our walks to early mornings and evenings for both of our heat tolerance, since I suffered a little in the sun on our short walks today, too.
The little cape was just quickly clipped on, but I will probably shape it a little better and stitch on some snaps so I can put it on or take it off when needed. That is if I can get to my sewing stuff enough to find the quick snaps I am sure are in the bottom of a sewing box somewhere.
Until then, I may just pin it to his current harness and use it when it is too hot and sunny... and start using the medium size store-bought harness for nice cool and/or cloudy days. He is now just big enough for the manufactured "medium" harness to fit.
I am happy to say this "little" boy is growing pretty well so far. 15 weeks old and 4.6 lbs now. Hope the little tail-biter keeps it up.