And, well, except a handful of other things including walking Mowzer every morning, it is. At least it is about the only productive things I have been doing. And that has been slow going... very slow.
In any case, with hubby home to help a bit with digging, I am excited to say I finally pounded the last brick for the patio in yesterday.
When last I posted about re-laying the rest of the patio, I still had somewhere in the range of a thousand bricks stacked in front of the office door and a very, very long way to go.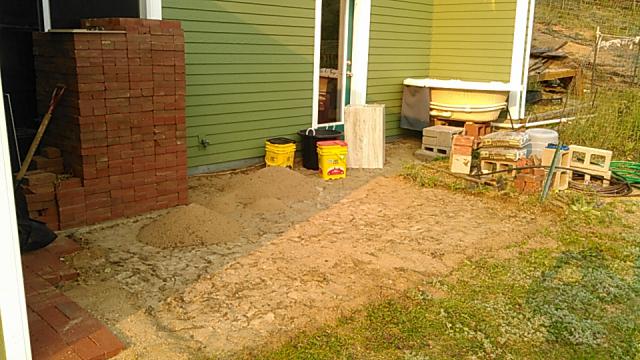 I managed to finally dig up the area that never had bricks, but it sat that way most of the winter since I just didn't have the strength of body or will to flatten and shovel away the excess.
With hubby's help doing some shoveling, I got it flattened out and pounded the bricks one at a time with a dead-blow hammer. Tedious to say the least, but if ever you need to get any frustration out, hitting bricks with all your strength over and over, does do the trick nicely.
At the end, I had a couple handful of bricks left... which was a good thing since I destroyed about 3 for every angled brick I needed to go next to the angled door pad.
It is pretty exciting to have done, not only just to have a full patio again, but also because now I have a pretty view out the office door instead of staring at a ton of bricks.
There are a dozen other projects around the house that need done, but now that I have a set of helping hands around again, hopefully we will make more progress before our next BIG THING happens at the end of August. Shhhh... don't ruin the surprise!