---
On the list of things I am thankful for...
My toilet not seeping water into the tile floor grout when bumped too hard.
My toilet not having ugly caulking all over the base of it... because maybe that was supposed to keep it from seeping or something... what were they thinking?
My toilet being attached to a flange that isn't broken... and that flange being attached to SOMETHING... because evidently until yesterday, it wasn't attached to anything. Sure... THAT is a good idea.
So in case you missed the last post, here is how that repair went...
Toilet Repair
Also, I am thankful that hubby found the wrist brace for me, since my wrist and about half my arm and hand has been alternately in burning pain and stabbing numbness ( No, I don't know how that works... that is just how it feels. ) ever since I spent a large part of last month digging the greater part of
25 big holes and a 20 ft trench
. Wrist brace... great for keeping wrist immobilized... not so great for typing accurately. But now I have something to blame for my poor grammar and spellling, yes?
Not so thankful for...
The fact that the roofer hired to replace and repair the roof after it was damaged by hail over SIX MONTHS AGO thinks that this is a great way to leave it after taking all the insurance money and then never finishing, showing up, or returning our calls.
Things to note about contractors (in my experience at least)...
NEVER hire a friend-of-a-friend... or in this case, family-of-a-friend. Because you are just as likely to be screwed over by them, and then you have the added irritation of things being uncomfortable between you and friend.
NEVER give (or let your trusting husband give) the second half of the money to the contractor before the work is done... and done RIGHT. Even if they threaten to not finish the job until they are paid the rest of the money. Because you will NEVER... SEE... THEM... AGAIN. Look in the contract... I can almost guarantee it states that they don't get the rest of the money until everything is done.
IF you are foolish enough to ignore rules #1 and #2, immediately call the insurance, and sheepishly admit that you should have called them the instant that the contractor refused to finish the work before being paid the rest of the money that he should not get until the work is finished.
Yep... that is how that went. So after SIX MONTHS from the time the contractor was supposed to start work on the roof, there are still things damaged, the gutter is no where to be found (very important because of how our water runs to the back of the house and then water pools right next to the back foundation), the facer boards are half-scraped and unpainted, there are literally THOUSANDS of nails and screws all over within 20 ft of the house along with several trash-bags worth of trash that I have been slowly getting picked up, but at least the roof is good, right?
...
...
Oh yeah... EXCEPT IT ISN'T!!! As we were out Saturday fixing the back trim and seal that the roofers did a crap job on, I noticed this foam gasket that was poorly installed... half of it falling out and half shoved up under the roof well past where it should be, and while trying to straighten it out, I noticed that water was pooling under the metal roofing below the kitchen skylight and two of the other skylights, too.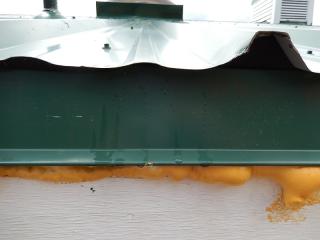 And not only is there water pooling under the metal, but when the sporadic rains chased us inside... I hear: "Splap... splap... splap... splap..." Yep... that is the wonderful sound of water dripping from the roof into the ceiling in the general vicinity of the kitchen skylight.
So, Thanks Mr. Roofer. This is why people HATE contractors. I have personally met a few nice ones, but the only two that have ever worked on my roofs have taken the money, done shit work, never finished what they said they would... AND left a leaking roof behind them.
Hubby will be calling the insurance again today to find out what we do about the leaking, and he is collecting bids to figure out who to use for the gutter and painting. And then I guess we can start this whole disastrous process again.
So... Much... Fun!