---

While it is easy to think that living in the mountains means you never have to deal with high winds, you would be wrong. We have gotten 100mph gusts, and with each changing of seasons a rampage of high winds come through... often taking anything that isn't nailed down with it... and sometimes even the things that are nailed down. In fact, whenever the wind blows that hard, a recurring nightmare of mine is that my entire house gets blown into the neighbor's yard and I am alone in the dark trying to push it back onto my lot.




In any case, this becomes something of a problem with most anything that can get blown around and we are working towards making everything either too heavy to blow away (like very heavy wooden lounge chairs), or bolting things down.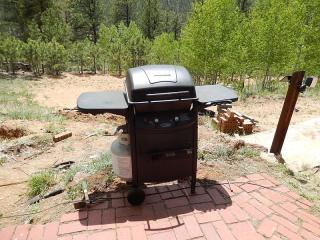 The most difficult thing is the Grill. When not in use, we have to tuck it right up to the house, and sometimes even put big rocks and bricks on the base to keep it from blowing over. Then of course, it is a big process to get it out and put it away each time we want to use it.
So we are working on determining the best place to make the grill semi-permanent, and this area will probably be the best location. Of course, we might decide to build a canopy and Grill station to the right of this area at some point, but that "
Grill Dream
" will be a long time down the road even if I figure out how to make it a reality.
We will eventually pour a concrete paddy with embedded bolts to hold the grill securely in place in it's permanent home, but in the mean-time a temporary measure to hold down the grill was in order. And it was so easy that I wish I had done it years ago.
Step 1... Place the grill and make sure all four feet (or wheels) are on solid and level contact. Then mark spots for the iron spikes to be pounded into the ground directly under the supports for the grill legs. (If you are not going for temporary, I would pour a concrete paddy instead to lock some eye-bolts down, or use much longer spikes so that they won't risk being pulled out of soft ground.)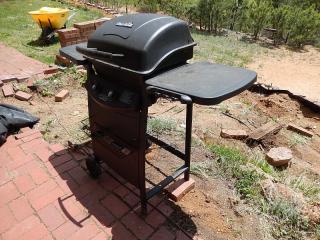 Step 2... Move grill out of way and pound spikes down most of the way.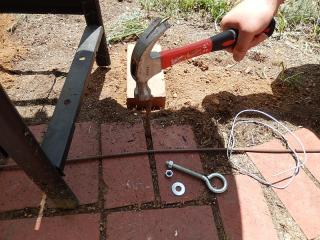 Step 3... Using strong wire, twist around spike twice and then around eye-bolt.
Step 4... Pound spike the rest of the way into the ground.
Step 5... If your Grill legs have a support bar with a hole, slip the bolt through the hole, if not, attach strong wire around grill support and then around the eye-bolt under the washer and nut.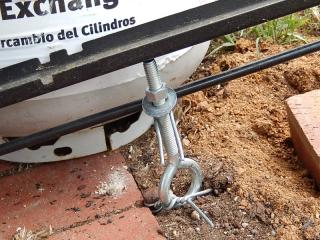 Step 6... Tighten nuts down until the Grill does not wiggle when pushed/pulled.
Of course, without some kind of weather guard, we will still have to take off the cover and put it back on each time, but that is much easier than the process of moving the whole grill around.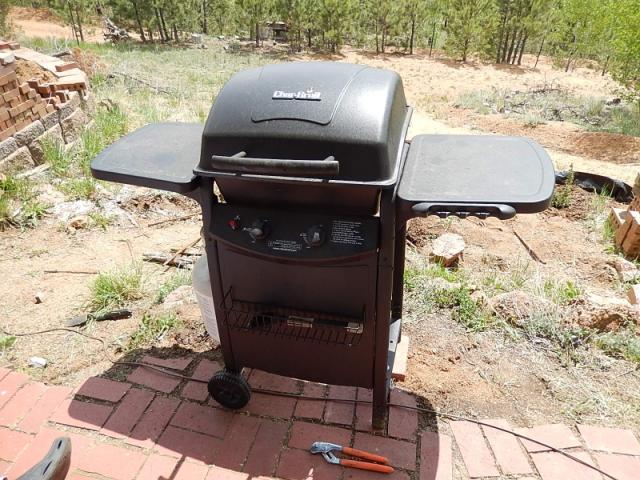 Note: Bungee cords around the "wings" of a grill can be great for holding your grill cover on in windy conditions.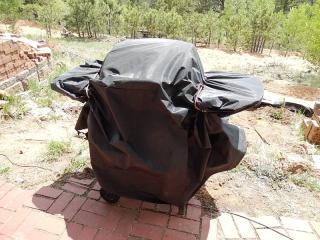 Here is an idea for the semi-permanent concrete paddy for the grill: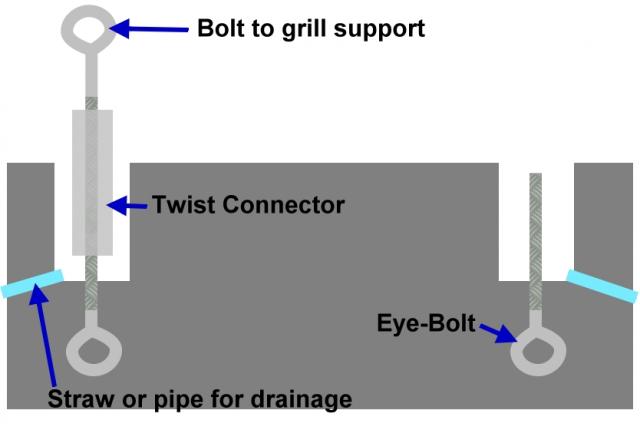 It would include embedded bolts so that there would not be anything to trip over if the grill was moved to another location (like summer grilling vs winter location). I think I could use PVC pipe to keep the concrete out of the open space while it sets... leaving nice holes that are just a little bigger than the bolt and twist connector.
Thoughts and ideas are very welcome... let me know what you think.