While nice planters in the stores can cost a small fortune, since this could easily use old pots that you or friends have laying around, this could be a very budget-friendly way to put together a very nice planter. Also, by using some of the small native plants, the costs can be kept very reasonable for a great plant feature.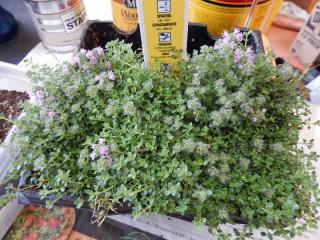 The important part for a successful long-term garden is finding plants that stay relatively small like this "elfen thyme", or you would end up trimming or replacing the plants frequently. I also wanted plants that don't need a lot of water since I already have a lot of
wicked plants
that like a lot of water and while I could wick the lower pot, I doubt it would be as easy to run wicks to the upper pots. Besides, sometimes it is just nice to have a few plants that don't mind a drought now and then.
After deciding that I did not want to wick the plants since these would be low water varieties, I thought that it still would not hurt to allow the lower pot a little reserve of water that would provide a little evaporated water to the pot over time. It also reduces the amount of soil in the pot and should help keep the tiny plants from getting overly excited and out-grow their area.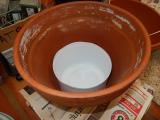 You could skip this step and just add soil or gravel to the bottom of the pot instead.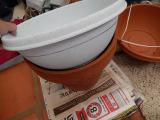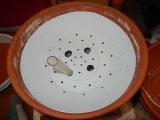 I used the bottom of a bleach bottle for the water reservoir and then used a cut down hanging planter with holes drilled in it above that to hold the dirt and gravel. I also added a vinyl pipe so that I can pour water right into the reservoir and when it over-flows a little and runs out of the bottom of the pot, I will know it is full.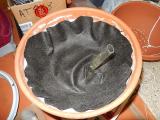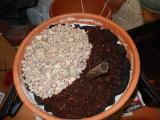 Then I added a layer of landscape fabric. It will keep dirt from falling through into the reservoir. I filled the upper pot with an area of gravel (to aid draining from the next pot) and the rest with soil for planting. I added gravel and planting areas to the upper pots as well, and then placed them on the gravel portion of the pot below.
Not bad at all for some spare clay pots.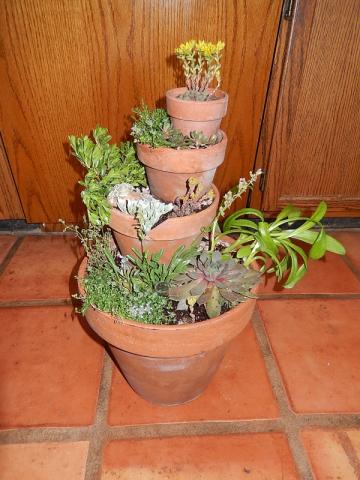 Despite my penchant for the ancient-oriental look that I try my best to impart to much of the house, I am not usually a fan of the more "southwestern" rustic style. This definitely brushes that category, but doesn't seem too far. I think the effect is probably based almost solely on the plant choices since it could easily be very southwest with cactus involved, or almost tropical if you chose more soft greenery.
About half the plants are ones that hubby got from the store for me or someone gave me, and about half are some of the native tiny plants that grow in the aspen area between our driveways.
Click the picture to see it larger: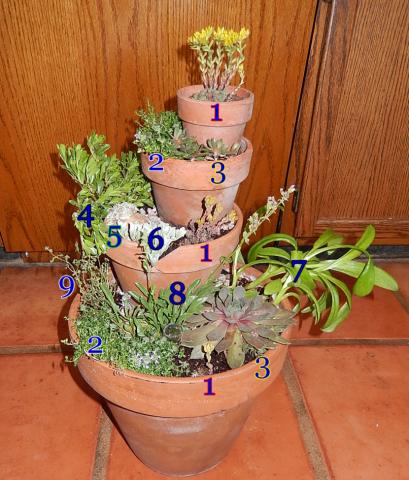 Small sedum type succulent that lives native here. Stays very small and low to the ground and then makes little yellow flower stalks about 1 to 3 inches tall.
Elfen Thyme purchased at Lowes.
Hens and Chicks purchased at Lowes.
Small section of slow growing ground-cover that lives native. Might be some sort of boxwood.
Native rock with some lichen.
Light-gray very slow growing native ground-cover.
Small bulb plants a friend gave me.
Native flower / ground-cover that makes small, skinny flower stalks with purple flowers.
Lemon thyme that was being killed by too much water in one of my wick containers.
While I am not 100% sure that all the natives will be happy year-round indoors, I think it is a good start to an easily maintainable "stacked" garden, and I am pretty happy with the balance of plants.
They all have low water requirements, but since they are all under stress from transplant, I have been watering them with a squirt bottle every couple days. I will continue to do so for a while, then go to watering about once a week... less or more often depending on how the plants feel about it.