---

Like I was shot by an invisible sniper, or someone had just yelled "Take cover!" In fact... I don't think I could have intentionally thrown myself to the ground that effectively if someone was shooting at me. I would probably just stand there looking dumb.




But that isn't how my day started about a week ago. It started by looking outside in the morning and seeing this...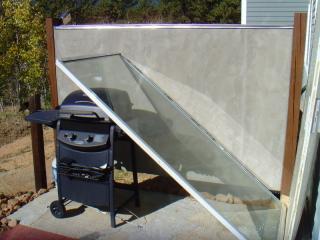 Yea, I am not sure at all how the glass door smashed into the grill and
didn't
break when the
other panel got hit
by a tiny pebble and crackled into a million pieces held together by my will and a roll of packing tape. But it didn't... thankfully. It did smack a little scrape on my grill wall and cause the seams to crack a bit more, and bent the side table on the grill, but it stayed in one piece.
I had not expected the wind to be able to catch the door panels that way so close to the house and grill wall, so I had planned on leaving them there until hubby was home again to help move them, but obviously that wasn't the case. So I got out my wagon and then wiggle-walked, shimmied, and hefted the door panels one at a time down the ramp and onto my cart. The first one was not as hard as the crackled one, but... not easy.
Then I carted the door panels over to the shed, centered the grill a bit better, and re-tied it's cable (a great thing by the way, since the grill would have been thrown down the hill by the force of that door panel if it wasn't tied down).
Since I was out there and moving heavy things, I decided it would be good to move this big very heavy 2ft by 7ft board over to the shed. Then of course it made sense to move the small pile of rebar and metal posts off the porch. And why not move the eight-foot 4x4's and several 2x4's to the side of the house while I am at it?
And no... not one single act of heavy lifting, precarious carrying, or creative hauling caused me to fall.
Just walking... carrying nothing... on my driveway... my flat... smooth... driveway. And if anyone had seen me, it would have looked like I dived to the ground to avoid some kind of ballistic missile. But no. It wasn't. I just slipped, fell, and managed to twist my ankle going down and land my knee full force on the one completely un-moving rock in the light gravel that is my driveway.
Yea... oouch. I wheezed with all the effort it takes me not to pass out when I hit my damaged old knees, then slowly managed to get inside and get a bag of ice. 20 minutes on the knee... then 20 minutes on the ankle... back and forth.
Gladly, the ice kept the swelling down, and besides a bone-deep bruise on the knee, both the ankle and knee were almost completely better within a couple days. Of course it gave me a good excuse to set aside physical work for a while and I have made some good progress on the Alaska vacation videos that I have been needing to get to for about three years now... And play with my new "smart" phone that I got discount from groupon.
So there are two morals of the story here... if you don't want to do the work, it doesn't help to break yourself after the work is done. And... you can be careful while you work, but will you remember to be careful while you walk?
In any case, I think it will be indoor-project time, or more likely lazy-maybe-think-about-doing-something time for most of the rest of the year. Because of the knee? No... because I broke stride. And as I feared, taking a break has slowed me down enough to really not feel like doing much of anything productive.
But maybe with Alaska videos in waiting to be worked on, and quite a few balls of yarn, I may still get something useful done.... Maybe.