---
So… how are the landscaping plans coming along?
Well… while not a ton of progress has been made outside, the plans are starting to come together, and a lot of difficult decisions are being made to move forward.
First… I started the visual layout with pictures that have movable objects so that I can really see things in my head…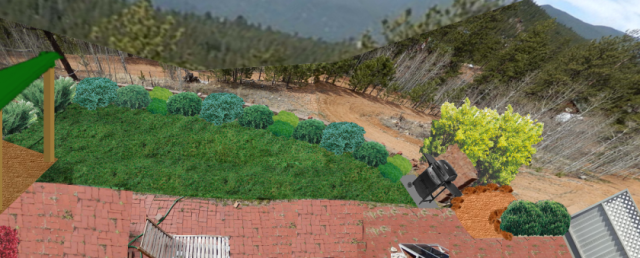 This gave us an idea of how things would look if they ever got full size, but as soon as I started measuring and mapping it to a real spread-sheet, it was easy to spot that the curve of the yard above should have made the bushes to the further areas much smaller in comparison to the near area and I was short a dozen or more feet in the line-up. So we played with a lot of options and in the end, decided to pick up some blue-rug junipers so that we could really get the area filled in better so that there should be less gaps once things start growing well.
In the spread-sheet, I was able to decide the best over-lap for each type of bush, eliminate gaps, and mark exact placement of the bushes…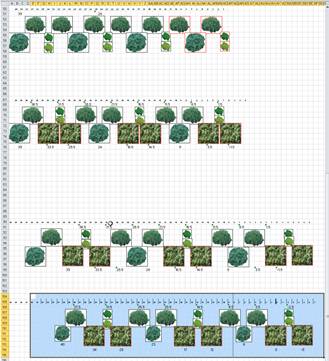 (No, they won't be staggered up and down when we plant them, that is just to make the areas of overlap easy to see.)
After hubby helped me choose which plan to go with (and confirm we can purchase six blue-rugs to add to the plan), I printed it for marking outside.
In the mean-time, I decided that old broke-down teni-shoes and clogs were just not going to be a good idea for digging thirty-two 30x24inch holes.. oh, and a few bigger ones, too. So I thought I better start looking for some thick sole work boots.
And, as luck would have it, last Saturday on our way home from shopping, we stopped by a place that used to be an Ace Hardware, and since then has changed into a "Big R". In one word… "NICE!" It is like the feed store of yester-year, but clean and shiny. A little of everything for home, farm, and ranch life… from feed, to western wear, to plumbing, to horse tack, and a whole lot more. I found some clearance boots that looked like they might work well and a pair of work gloves that fit my tiny hands (which is pretty hard to find and my last ones are on their last legs… er… fingers). However, I was concerned about the price of the boots, even though they were on clearance… boots are expensive… and the store was about to close, so we didn't get them. However, on our way out, we picked up the store flyer and saw that the over-sized cart that I have been hunting for yard work and hauling fire wood for about 3 years (but could never buy because I could not find it in a real store, and even online it was $200+) was on sale for $99!
And it is Nice! 24in wide, 48in long, rated for 1200lbs, and the sides fold down to make it into a flat bed… and the big wheels and large soft-grip handle make it pull like a feather.
Right now I have some vinyl sheeting in the bottom to make a drip tray and the lilacs so that I can pull them outside when the weather will permit and bring them in when it is cold, or too sunny.
So on Sunday… I hemmed and hawed, and after both hubby and I did a lot of research on boots and boot prices, we decided to go boot shopping and get some good boots for me. Of course, I only got to the "Big R" though we planned to go further in to town and several other stores. I decided for digging and really rough work, the clearance boots would work well. And when we used the foot measure tool, I also found out that one of the reasons it is so hard to find shoes and boots (besides my wide toes) that fit my feet, is that the right one is almost a perfect ½ size smaller than the left! Of course, that makes finding a snug fit in both boots impossible… or almost impossible, and I finally decided to go for the clearance boots, which have an extra loose fit. I am hoping the "extra" loose fit will prevent blisters since everyone told me that a snug fit is better since your feet will rub a lot in a moderately loose fit.
And of course… who doesn't need a pair of lime-green and ostrich-brown boots with hot-pink trim? Besides, they match my hot-pink socks that were in my Christmas stocking this last year…
In any case… look at that sole… THICK. And they are easy to slide into. And who cares what work-boots look like? (Actually, they kinda make me giggle every time I put them on.)
As a side note, I did find one pair of boots that actually fit both feet with that correct snug-ness. They both say "7 ½ B", but the right fits like a "7 B"… EXACTLY what my funny feet needed. However, they were more expensive, and also the sole was only about half as thick as the clearance boots, so they would not be very good for digging, so I went with the clearance boots.
…. As a side-side note… the perfect fit boots went on sale yesterday, and hubby got them for me… he said that they were from the kitties for mother's day.
LOL… Thanks Kitties!!! (And thank you hubby, too.)
So that brings me back to bush plans and marking… Remember… that is what this email was about, right?
I started by placing a spike to be my starting marker and then measuring out and marking each bush spot with a designated type of brick. Like the three-hole is for the Blue Rug, and the broken is for the Tam Juniper, and the flat is for the blue-star. (Yes, I drew that on the "bush map" so that I will remember later.) And then I used some cardboard to give me the right size of hole and used marking spray paint to mark each bush hole size.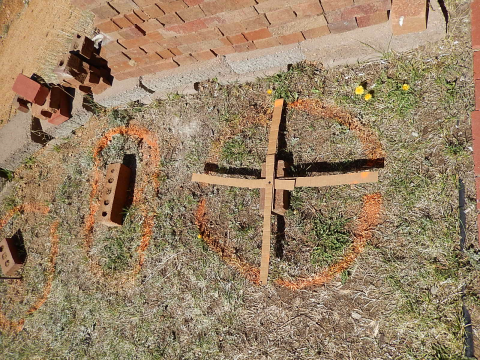 It made marking and placement super quick and my holes should not get smaller or bigger as I go.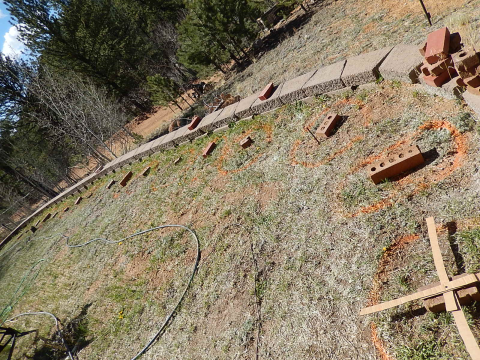 Then time for some digging...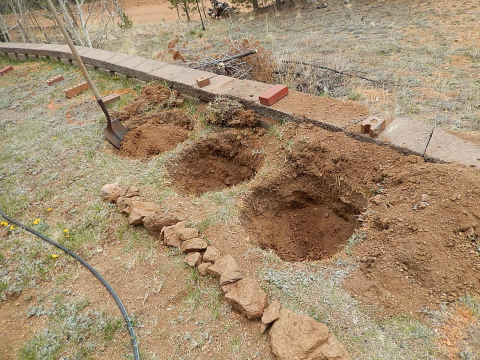 Oh… and my clearance work boots worked wonderfully for digging. Dug 2 1/3 holes yesterday through gravel, rock, and a smidgen of dirt and my feet don't even hurt today. I could have dug some more, but I stopped because I wasn't sure if we wanted to put the extra dirt over here or over there. Also, I needed to wait a bit to have the right mix of peat and top soil and compost to mix with the dirt for filling in the holes.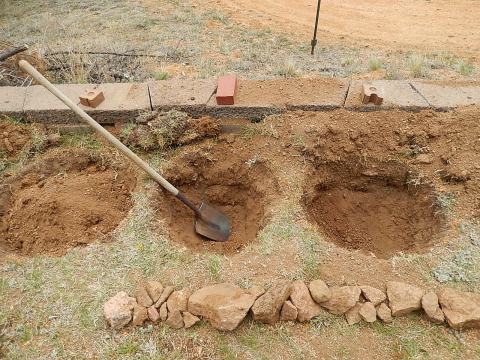 I realized that if we tried to save all the dug up dirt to mix later, it would fill a good portion of the yard and kill of grass where is sat, or we would have to haul it all to a pile away from the yard, only to haul it all back in a few weeks. I will need a mix of about 40% our gravel-dirt, and 40% good top-soil, and then add about 10% compost and 10% peat-moss to that. So it would be a whole lot of hauling and mixing. But… why not just pull the soil I need from the next hole over… filling the previous hole with the right mix as I go? Then when it comes time to plant, all the holes will be ready and all I will need to do is dig up one or two shovels worth from the hole and pop the plant in… add a little mulch to the top... Done!
Of course, I doubt much digging will happen today since it is gray skies and there is two inches of snow and ice on the ground this morning. So Okay… I see the reason we have to wait until Memorial Day (or later) to plant up here. Just… all the good sales are before that, so now we have to day-trip dozens of bushes outside to "harden" them, but bring them back in a few hours later so they don't get burned by the sun or frozen overnight.
And now I need to start trying to find the roll of fencing that is somewhere out in the shed so that we can fence the lilac and Siberian pea-shrub area so the deer don't just eat them down to the ground.
Oh… the JOY!