---

After all that jam making I came to realize that my miss-matched pots and pans (mostly from two very cheap sets purchased about 12 years ago) were on their last legs... or in this case handles. So I started looking for replacements for the dutch oven that lost it's handle last year. Of course, then I noticed that most of the other pots and pans were getting loose handles as well, so I was also keeping my eye out for a nice set of pots & pans that I could get cheap.




Not an easy search. Sure there are a lot of really cheap cookware sets out there... even stainless steel. But I wanted to get riveted handles and cookware that I would not have to replace again... hopefully in my life-time. And if I am going for that, I also wanted to get two sets so that I am not constantly having to wash the two most used pots sometimes twice a day.




So I have been checking off-and-on online and found a set that was a little better than low-quality, and stainless, and had neat pour spouts. But it was hard to get behind the smallish set containing 4 pots/pans and costing $70... especially when I would need to get at least two sets to have enough pots.




Then one day I noticed a CRAZY price on some mid-high quality Calphalon pots and pans. A whole 14pc set for the price a single Calphalon pot would normally cost. I guessed it was a mistake in the price listing, but I thought... why not try?




I ordered three sets and in the end it took quite a bit of email and a phone call, but Amazon honored the price and gave us free one-day shipping for the trouble.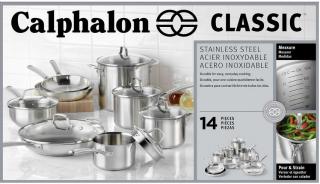 All this of course means that my pot and pan slider for my kitchen cabinet needed a bit of updating.
Here is the original Before & After: (see more
here
)
However, the dowels I used as separators slid around a bit too much and didn't keep some of the more unwieldy frying pans straight at the bottom. So I decided to replace the dividers with full length 1/4 inch wood.
Cordless tools make quick work of cutting and sanding...
The dividers are placed and then the end is marked for drilling...
A hole very carefully drilled for a wide head screw that will lock the board in place on the wire back and front...
And viola!
Now all I need to do is wash the pots from the second set and get them put away.
The ironic part is that I started looking for a standard dutch oven, and that is the only piece the Calphalon sets didn't include... they have a large 8-quart stock pot instead. So I think I will try to sell the extra set so that I can get the 6-quart stock pot or 5-quart dutch oven.