---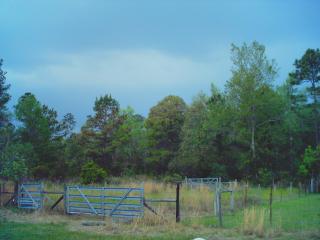 With hubby working long hours and suffering from terrible hay fever, the mowing usually falls to me. Back in Georgia, mowing was an almost weekly act of heroism, and I had a special shirt with pockets in the cloth to put ice packs like body armor just to survive the stifling heat of summer. My father's lawnmower... affectionately named "Baby Bush-hog" could chew through grass, brush, and small trees with equal enthusiasm. That is... if you could get it started.




Finally the day came that the lawn-mower repair shop told me that it would cost more to fix up than to buy a new mower.




The new mower didn't chew through brush or trees, but was a light single-pull to start, and for the first time, I didn't have to have someone else at home to get the mower started. Sadly though, it needed a trip to the repair shop before I could start it the first time each season. And it was only one year in Georgia and two in Aurora before I was back to pulling my shoulder and back out of joint every time I needed to start it. And then it would start no more.




Finally after having to pay someone to mow the yard a few times and living with the constant threat of city fines for having my grass a quarter inch too tall, I had to do something. I had a pitiful battery powered weed wacker that died after only one year, so I steered away from battery power (though I would carefully consider it now that the batteries with lithium power are available). And I knew that I didn't want to purchase another gas-powered-back-breaker. So I got the cheapest model of electric corded mulching mower I could.




Had I known the little mower would last so long, I think I would have gotten a more powerful model because the Aurora yard was medium-largish at almost a half-acre with very little house and no driveway taking up room. However, up here in the mountains with a small "yard" of about 15x40ft, the tiny mower is absolutely perfect.




So... down to the nitty-gritty...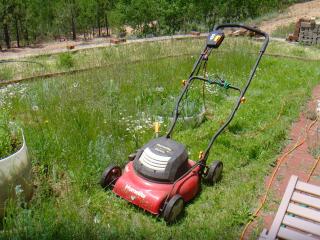 My little mower is the "Homelite" 18inch 2-in-1 (Mulch or Bag) Electric model. I used it for about 4 years in Aurora (having to still mow after we moved to the mountains until we sold the house). And used it here for about 5 years. Mowing my little yard here is a two to three time a summer event in a small yard, however, Aurora was at least once a month for most of the year and often twice a month in the peak growing seasons of spring and early fall.
Would I recommend an electric mower?
First... if you are big and strong, don't mind repairing a gas mower at the start of each season, and don't have patience for electric cords... No. You will probably find the need to re-train your mowing patterns around an electric cord more annoying than it is worth.
Second... with an acre or more of eye-high Georgia grass to mow... No, not at all.
Third... with a large yard of fairly thick, medium-to-fast growing grass... Maybe. Yes if you are not strong enough to pull-start an aged gas mower without hurting yourself, and yes if you don't want to put in repairs on a gas mower at the beginning of each mowing season. But... invest in a strong motor and larger deck... it will be more than worth the money over the years.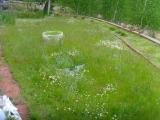 Fourth... if you have a small yard or seldom need to mow... Absolutely!
I have been using my little mower for about 7 years now, with four of those being hard use in a medium-large yard. It still starts with a gentle squeeze of the trigger bar without a single issue... every time. And I have saved a ton of money because it has never needed a single repair besides sharpening the blade now and then.
Some things to note though...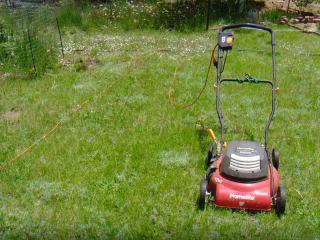 You have to re-train yourself on how to mow. No matter how you learned to mow, it probably won't work for a corded mower. You start at the closest point to your electric plug and then mow in straight strips out one row at a time until you reach the furthest point from your plug. This reduces the chance of running over your cord. Additionally, a lot of extra caution must be taken if you need to back up while mowing.
On the plus side though, you can stop mowing at any moment you want with the glorious knowledge that you won't have to strain your back to re-start the engine. You never run out of gas. Maintenance is almost nothing. You never have to plan-ahead to check if the mower will start when you want to mow. And, if it matters to you, the electric mower is very quiet compared to a gas mower.
And one last note... While I shied away from battery powered mowers in the past, with the advancements in lithium batteries and smart charging, I would definitely consider one if I ever needed to replace my little corded model. Also, a small oddly shaped yard may be a definite reason to look into a quality lithium battery mower instead of corded.