---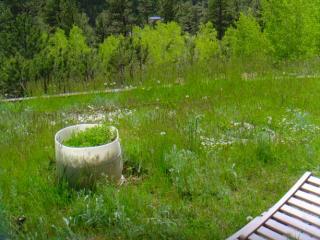 Into everyone's life a little rain must fall, but here in the Bailey area we have been getting great rain and thunder storms almost every day, and sometimes twice a day. I feel a little funny saying "usually" when I have only lived here for 5 years, but at least during those years, we had the occasional snow into May, but when the snow stopped, more often than not, so did all moisture up here. Ushering in a drought that would burn the bushes, stunt the grass, and turn the newly wild-flower filled fields brown until the drought would break in July or even as late as August.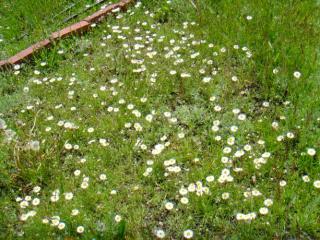 While I love the rain and the beautiful green that goes with it, it was a bit of a shock to look outside and see my little lawn much more resembling a wild field. My grass that needs mowed maybe twice during the year was already putting up seed stalks and the weeds were becoming giants... well... for up here that is. Mind you, the grass where we lived in Georgia would literally be above my head if you didn't mow it for a month, so my knee high weeds here really are only a surprise if you know they should not be that tall yet this year.
But... it also provided me the great opportunity to try out my newest used tool in my Ryobi collection. The hybrid string trimmer.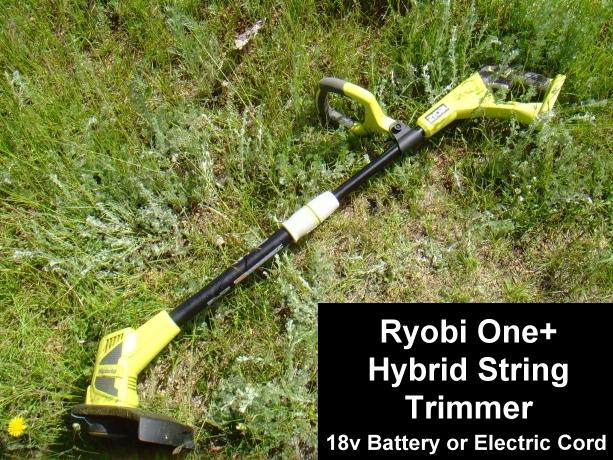 As with any new or especially with a used tool, you should inspect it thoroughly beforehand. Clean any little vents, check the parts are attached correctly, and when applicable... re-wind the string.
I have owned a couple cheap electric corded string trimmers, and also one battery powered one before. The previous battery one lasted all of 10 to 15 minutes of use brand new, and the battery was dead and un-replacable after one season of use. However, after being very impressed with all my Ryobi One+ Tools and their battery life, I had been keeping my eye out for a used one of these trimmers for quite a while. Not only is it powered by a quality lithium battery, but the 18v battery fits all my One+ tools, so I have acquired quite a collection of them.
The first thing I noticed was the much heavier weight than my super-light-weight-bottom-of-the-barrel corded electric trimmer. I am not sure how it would compare to a gas trimmer, but I am guessing the weight may be about the same. Heft seems to really equate to quality here, and it feels like it will last a very long time compared to light weight models. It is definitely "worth it's weight", but I admit I do wish it were a little lighter. Some adjustment to the handle helped even the weight out across my small arm-reach though. I also did have to switch hands frequently, however this is something I do with any string trimmer, so I don't know if it is too much to do with the weight or just my style.
The second note was the automatic feeding string. I was concerned that this meant it would waste a lot of string, but it didn't seem to. It was a surprisingly nice feature not having to bang the trimmer on the ground to let more string out.
And of course, the cordless ability made trimming here... there... on the other side of the house... and... oh! missed-a-spot... Bam! Amazing!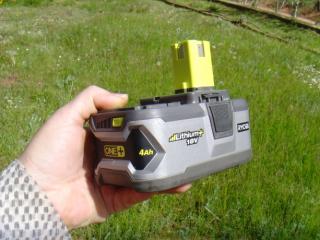 I expected to need to use several of my batteries to complete the areas I needed, but I didn't even run out of one of my super-sized batteries. My arms and back ran out of steam after about an hour of doing the most important parts, and the single battery could have gone longer. I trimmed down around small bushes in a space about 3ft by 40ft of moderately thick grass and weeds, and then trimmed two areas of about 4ft by 8ft on the side of the house.
I purposefully stayed away from the house, since the last time hubby was weed-wacking, one of our
sliding glass doors didn't fair too well
, and I think we should rig up some kind of shield for the glass doors before we get close to them again.
Over all the Ryobi hybrid trimmer performed at least equally to any string trimmer I have tried, and if you don't have a super-sized battery or several for your other Ryobi tools, you could still use a cord to finish if you ran out of juice.
Over all I would give it 8 out of 10 points. It lost two points for weight... quality is great, but I have to balance that with how sore my arms are going to be tomorrow.