---

I am suffering from some severe Project ADD (Attention Deficit Disorder). The problem is, when I have one project that can't be worked on right now for whatever reason... time of day, forgotten supplies, or simply because another project needs to get done first as a needed step to getting done the next project... another project gets started. And this isn't exactly something new.




Even as a child, it all started with one thing tumbling into disaster. For example... something as simple as "Clean your room." And, with the very best intentions of doing that, I would head to my room to clean. I would pick up a toy and take it to my toy box. But before I could put away the toy, I needed to remove the books in my toy box because they go on the shelf, so I would put down the toy and take the books to the shelf. And of course, the books could not just go on the shelf, they needed to be organized... but they didn't all fit. So I needed to figure out more space for books. The dresser would work, but to put books there, I needed to remove the nick-knacks. So where to put the nick-knacks? And on and on and on, until finally my mother would come in a few hours later to find the room twice as messy as when I started.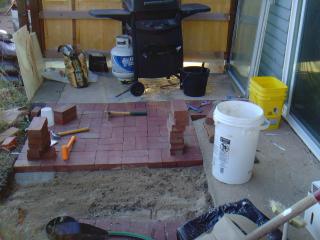 And that is just about exactly where I am now. I poured the grill paddy concrete, and then needed to re-set the bricks next to it, but it doesn't make sense to haphazardly wedge in bricks when they all really need re-laid, so I start re-setting bricks row after row, but the grill is sitting on some of those bricks, so I move the grill to the grill paddy, but I can't grill there until the heat-shield is up so I get some cement backer-board and thinset while at the store to get some flashing for the door trim (which also needs done), but I can't put up the backer board to the one side of the privacy fence until I deal with the weather treatment of the panels on the other side because the screws go through the back, so I sand the panels, do test varnish and think it will work, then varnish the whole thing only to find it doesn't work and looks
terrible
, from a bad sanding job,
so I need to prepare more panels, but to do that I need to cut down one panel to size, get some more varnish from the store, and coat the panels with three coats of sealer so they won't weather badly again.
But before I can take down the old panels and put up the new ones, I should cut and paint the door trim boards while I have the large patio umbrella out for shade while using the varnish... And in the mean time,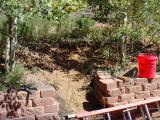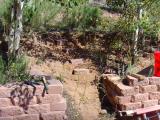 I hired a couple local teens to come help pull baby trees up behind the house, and not only need to scrape dirt and lay a few bricks to make a safer path to getting up to the trees, but also spend the whole time the teens are working pulling trees too and using a board, cargo strap, and brick level to pull the larger trees, to set the pace and keep the kiddos on task
(goodness I am too old for that!)
.
Then because Lowes had a great one-day paint sale, I drive to town for paint to paint the shed as a test for colors we may want on the house, only to realize when I get home that I was too focused on complimenting the roof color and got a paint that is way too light, so I will need to go back and see if they can add some more color to it. ( Funny enough, I liked the color so much and it turned out to be an exact match to the color I chose for the bathrooms over 5 years ago... I guess I am at least consistent in what I like. ) In between all this I am re-laying bricks in the late evening because it is too hot to do during the day and slapping coats of varnish on the panels in the morning to give them time to dry before the cold nights.
I am definitely forgetting about 6 or 7 small projects between all this, like re-wiring the battery casing to my weather-clock to a corded version, epoxying a crack in my toilet seat, and cleaning fish filters. And between all this and more, I am just about as broken as I can be and running only by the grace of advil and naproxin.
But... as it has always been... if I give up now, none of the projects will get done... and my room will never get clean.
If I ever do get it all done though... it will definitely be time for vacation.
And the moral of the story is... either lightly scuff the finish, or sand it ALL off 100% completely, because half-way is a waste of 4 hours of work.