---
I was measuring the place I wanted to move the cement paddy to for the grill (up hill, around a corner, and behind a retaining wall… fun, right?), and realized that it is about 1 foot longer than I would really like to put there.
So here are my wild imaginings regarding it...
•
Put it where I wanted anyway and just deal with it being one foot too long. (requiring some extra cement on the backside or moving one top brick of the retaining wall where the corner would have to go… or maybe sledging the corner for a few hours to make it into a curve)
•
Give up on the "decorative" ramp with pebbles pressed into colored concrete and move the paddy so that it starts the ramp area and saves us about 8 bags of concrete.
•
Set up corner cinder blocks and use it as the world's most sturdy lounge chair.
•
Set more cinder blocks under the corners and use it as a picnic table that would NEVER… EVER blow away.
Okay… so it would be kinda rough surface wise for either a chair or a table top, but ideas are ideas.

Sooooo…. I asked a few people: "What are your ideas for it?"
This is my FAVORITE by far...
Mom: "you could put it where your garage was going to be, water it and see if it grows into a garage"
I laughed so hard I scared the cat… the deaf one! He was not amused.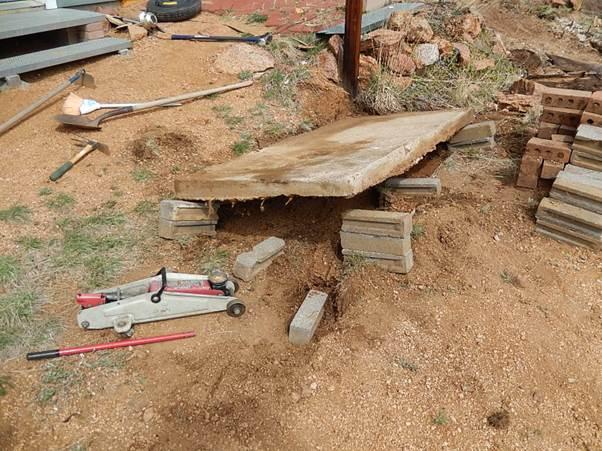 So, any other great or humorous ideas?
FYI… it is 6ft long, 34 inches wide, and 3 ½ to 4 inches thick, with a semi-rough surface.