The night of Friday, February 20th, I was notified of a family emergency in Topeka, Kansas where my parents live. Hubby got home about twenty minutes later and helped me check into flights vs drive, and helped me pack, and a couple hours later I was driving down to my sister's in Denver with hubby following in our other car.
We determined that flying would only get me there a couple hours earlier and create a wealth of questions with rental cars, so driving was the best bet... if I could get ahead of the encroaching storm that was supposed to hammer the Denver area all weekend. I left my sister's in the early morning in the beginnings of snow, and by the time I hit the major highway I70, I was just above the incoming storm.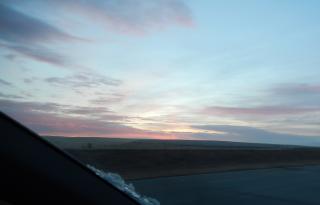 Of course the turn southward to Limon before the roads heads east to Kansas is always the big question in winter... if you can make it past Limon you should be fine, but I have passed through the area with exits closing behind me due to white-out conditions more than once. Luckily it was still too cold for the snow to let loose as I passed under the edge of the storm through some thick fog and got gas in Limon. Then the light cloud cover kept the sun out of my eyes all the way through my next stop for gas and into the afternoon.
Everything is okay now with my parents, but I stayed for a month while health tests and checkups were done.
And for anyone who has never driven through east Colorado and Kansas, I took complete and detailed pictures on my way back so you can get the full effect...
Stare at this picture for 2 hours...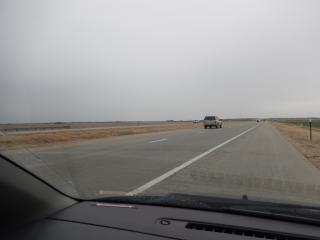 This one for 10 minutes...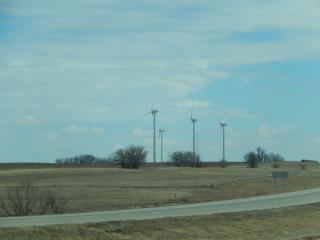 This one for 4 hours...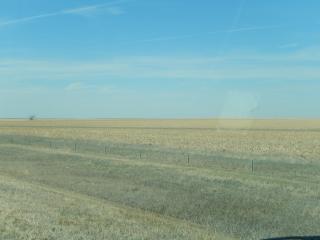 This one for 10 minutes...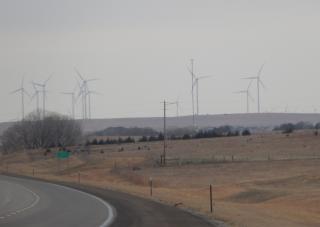 And this one for 2 hours...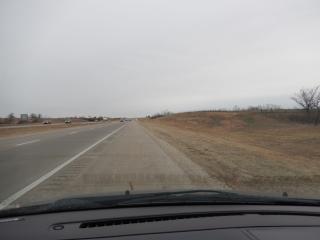 No... it doesn't matter which direction you are traveling... the order is the same. At some point cruising at 80-ish and especially if you are feeling in a hurry... you will feel like an elderly turtle riding a sickly snail will go speeding past you at any moment. And that is in the best of conditions. When the wind is blowing (which is almost always), you feel like your car is made of paper and the white knuckled death grip on the steering wheel is the only thing that saves you from a side-swiping semi at least twice a minute. And if the wind comes from ahead it can make you check your gear shift frequently just to be sure you are not actually in reverse.
No offense intended to anyone who likes eastern Colorado and Kansas. I have driven through in spring time when the startling green of the rolling fields would make a Teletubbie envious. However, they don't call it the "dramatically-interestings", or the "thrill-a-minutes"... it is called the "plains" for a reason.
The most interesting part of the trip is seeing gas stations that probably last serviced a Model T... and then realizing that you probably won't make it to the next exit with a station and have to get gas there.
Luckily the wind was minimal and traffic going was nearly nothing with threats of I70 being closed due to the weather west of Denver, so I made it to my parents relatively quickly.
While I was there, I made a snowman and cooked overfilled pizzas, went to a 4H dog show, and a horse jumping event...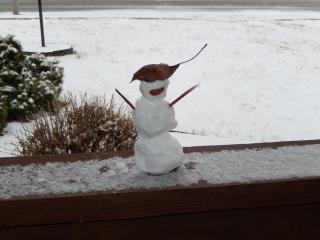 and mostly had a nice time visiting with my parents.
... And went to Menard's (the coolest home-improvement store ever) several times.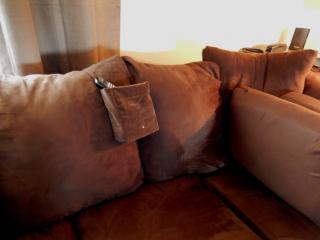 As for my craft fix, I made a remote / phone pouch for my dad's couch. Yes... I know they make these for couch arms already, but I wanted it to match the couch and hang on the back where dad usually puts his phone and remote (and where I knock one or the other off each time I visit).
I made the pouch with a long flap that would hang over the back and tied it with some yarn to the couch feet so that no pinning would be needed that might damage the couch cushions. Then I attached a binder clip to hold dad's phone charger cord so that it would not fall behind the couch either. I doubled the fabric so that I could slide a few plastic pieces from a dollar store plastic container in the back and sides to help keep it's form.
It was surprisingly easy to find some material that was thick enough and the right color for the couch. Harder was hand-stitching the entire thing, but kindof fun to get back to crafting basics and remind myself that while modern tools can make things easier, the basic thread-and-needle can work just as well.
In any case, I am home again now, spring is springing, and my project list is filling up fast... maybe I will get done the things that I was actually supposed to do last summer... like this cement ramp...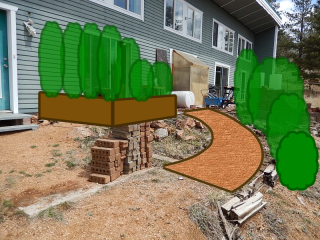 ... but that's a story for another day... or even another month, as we still expect snow through April and I need a nap... or four.