---

Owning a home can sometimes feel like one really long todo list, but now and then it really decides to show you just how easy that todo list really is when nothing goes wrong. Saturday was pretty much the opposite of that. It started out well... I woke up and the sun was shining through perfectly clear skies for the first time in several weeks. And I guess we should have just left it at that and gone back to sleep. But of course, there are always things that need done and my growing list of house projects and standard home maintenance is always gnawing at the back of my mind, so a sunny day and hubby home meant that things just have to get done.




We started by moving some barrels and wood from the yard to the sheds, and then continued to clean up some while hubby weed-whacked around the edges of the lawn and house. As he made his very last pass by the grill, I hear a thump. Then the strange sound of rice-crispies accompanied by cursing.




And here is three things that you probably don't know... just how long a sliding glass door can make snap-crackle-and-pop noises after being cracked by a rock, just how tiny safety glass breaks into when cracked, and how very long it can seem to find some freaking tape while listening to three cracks turn into one-hundred-million tiny cracks.




And just in case that doesn't seem quite enough... hubby comes back from hunting for tape in the utility room and says "There is something in the dryer."




I don't even look up from my tape hunt... "Wait... what? Who cares?... find tape!"




And he just stands there for a few seconds as I am digging through the drawers for some tape... then he speaks slowly so that I can understand the evidently complex issue... "There... is... an... an-i-mal... in... the... dryer."




Nope... seriously... that doesn't make any more sense than before. Here I am trying to find tape to hopefully prevent the sliding glass door from falling into a ga-freaking-gillion pieces all over the place, and... what?




So I look at him a moment and the only thing I can think to ask is "Is it going anywhere?"




"No."




"Then find tape!"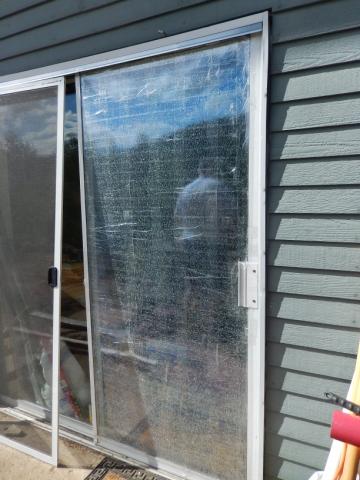 So we literally taped every single inch of still crackling glass with packing tape from left to right and got several strips of tape run from top to bottom as well before we ran out. And hopefully if it all decides to fall out of the frame, most of it will stick to the tape instead of covering half our yard in itsy-bitsy pieces of razor sharp glass. And I guess on the plus side, some people pay big bucks for "crackled" designer glass doors.
Er.... Right?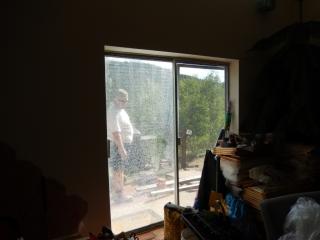 And it really is impressive that the snap-crackle-pop continued until there was not one single piece even as big as my pinky-nail left in one piece.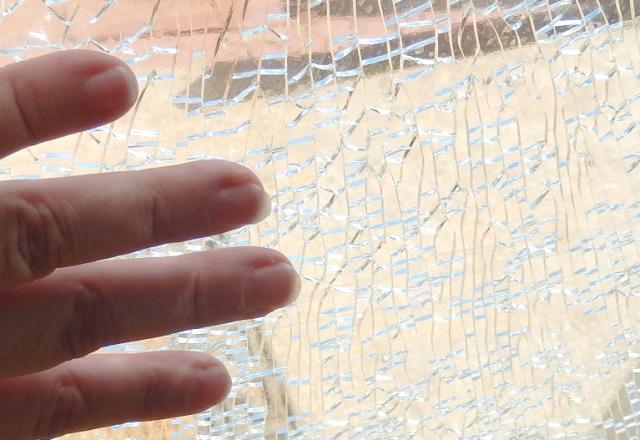 The saving grace is that the interior pane of the double paned door is still fully intact, so at least we don't have to put up plywood or something until we can afford to replace the door. But using the door is out of the question until it is replaced and it is my favorite summer door. And of course, the tape could fail and the whole outer pane could come crashing out at any time, too.
Fun, right? But now... What? An animal in the dryer?
Scratch-scratch-scratch. Yep. Evidently one of the myrid of chipmunks that think our home should be theirs has climbed into the vent, dropped the half-dozen-feet down the pipe, and is now trapped in the dryer vents and unable to climb back out.
And as I stand there staring at my dryer that is making terrible scritchy-scratchy noises, I consider all the possible ways that getting the little bugger out of there could go horribly wrong... as if something hasn't already gone horribly wrong with him in there in the first place. But eureka!
I had the best idea... EVER. Tie some weights to a cord, lower it into the vent pipe, and then he will have something to climb up... right?
Brilliant idea. And as with many brilliant ideas, the execution failed miserably. We got the cord lowered into the vent and I tied it to a log... because who really wants a chipmunk to run up a cord onto their arm, right? Then I stayed at the vent to make sure I knew when the little guy got out and sent hubby to bang on the dryer to scare him up the pipe.
And I even saw tension on the cord after a few bangs, but hubby got impatient and tried turning on the dryer. NOT... A... GOOD... IDEA. I banged on the wall to make him stop, fearing that the gas fumes might kill the little guy and leave a dead animal in our wall. My fears grew as we no longer heard any scratching, and we started the task of removing the back shelving over the washer and dryer to find out what happened.
Whether it was the dryer blowing or the wall banging, Mr. Chippy evidently took a left turn instead of using the cord to climb out and chewed his way right out of the flexible metal pipe. Seriously Mr. Chippy? What are your teeth made out of?
So now we have a hole in our not-easy-to-replace dryer vent pipe, a vent cover that rodents can enter, and... oh yea... a chipmunk wandering around inside the house. Just what I always wanted. But it gives me a chance to try out some new yoga positions and clean out the vent pipe, so...
We pull out the dryer to the maximum that I feel is safe with venting and gas-lines attached and I slide one leg into the hole, stand on tip-toe with my impressively long leg... yep... I stand 5'2" on my best day. Then I fold my other leg to my nose and have to slide my foot down my entire frame to touch the floor in a space not much wider than 1ft x 2ft. And realize... that not only am I too old to be doing this kind of contortion, but also that my butt is too big to bend into the space and I now have to half-bend half-squat in a butterfly to get down to the pipe connector.
But at this point I happily remembered my dad once telling me how to clean out a clog in a vent pipe. First step is to drop a weighted (in this case with a long nut and washer) cord down the vent. Then tie the end to a rag that will be absolutely sure to fit through the pipe without getting stuck. Then I had hubby pull up the cord and rag, cleaning out the pipe of built up lint as it went.
Then came the fun part of cutting away the damaged part of the flexible pipe and carefully stretching the pipe to fit to the wall section again. Luckily the pipe still had enough stretch to cover the distance, because gas dryers must be connected with semi-ridged pipe... not just that easy to attach papery kind that can attach to electric dryers.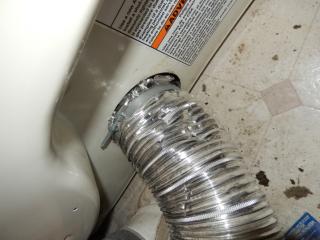 Of course the moment I got the pipe secured to the wall, the tension caused the pipe to pull off the dryer, and I then had to re-attach it there as well with a couple more completely undignified yoga posses to reach it.
With the shelf back on and the dryer back where it belongs, you might never know that a wild rodent invasion had just taken place... except the clawed carpet that obviously was his escape path from under the washer.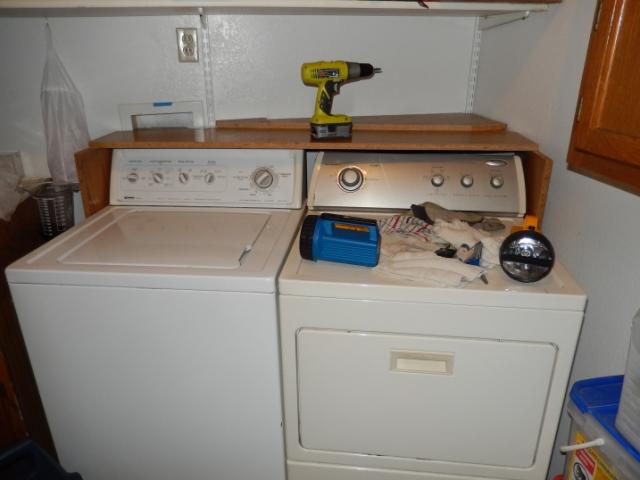 And of course the day isn't over. I have no urge to let more chipmunks down my dryer pipe, so we
replace the vent cover
, have some dinner, and mow the yard. Because, despite disaster and doom, a sunny day may not come again for a while.
Regarding the wild chipmunk wandering my house... I have been listening all over and still have not located Mr. Chippy, but I am sure where-ever he is, he is doing plenty of damage with those vorpal-blade-teeth.